Published on Thursday, 12 September 2013 12:41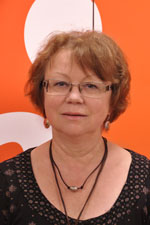 Leader of the Early Education Unit. She graduated in psychology from Adam Mickiewicz University in Poznan.
She is a member of the Committee on Psychological Sciences of the Polish Academy of Sciences. Since 1991 she has managed the Department of Psychology of Socialization and Child Development Support at the Institute of Psychology of Adam Mickiewicz University. For almost 40 years she has been involved in research on psychological foundations of education focusing on children, their parents and teachers.
Prof. Brzezińska is an editor and co-author of the major textbook for teachers Psychologiczne portrety człowieka. Praktyczna psychologia rozwojowa. (Psychological portraits of man. Practical developmental psychology) (GWP, 2005).).

Prof. Brzezińska cooperates with editorial teams of magazines for parents and teachers of preschool and early school-aged children. She takes part in conferences, seminars and workshops for teachers, school directors and teaching consultants.
.