Published on Thursday, 25 July 2013 11:05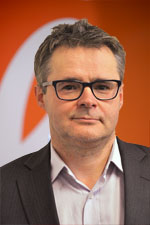 Deputy Director for Finance and Management. Lawyer, graduate of Maria Curie-Skłodowska University in Lublin. He completed postgraduate studies in management and financial management at the Warsaw School of Economics. He was a board director and advisor to the National Sports Lottery (Totalizator Sportowy). Until 2007, the deputy chairman of the Polish Agency for Enterprise Development responsible for the training and administration of the Agency, the Agency's budget and for working with external institutions such as Regional Financing Institutions, KSU, KSI. He worked as a managing director in Seka SA where he was engaged in the acquisition and implementation of training projects. On behalf of other institutions he managed the investment projects of the Operational Programme Innovative Economy and was engaged in soliciting grants.
At IBE since February 2013
.