Published on Friday, 05 December 2014 13:22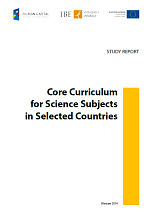 The aim of the study was to compare the meaning of scientific reasoning skills and use of the scientific methods across curricula of selected European countries. This objective was achieved by comparing the Polish science core curriculum at the low secondary school and the first class of higher secondary school with corresponding documents of the five selected European countries – England, Czech Republic, Estonia, Finland and France. Countries were selected for comparison guided by the results of the PISA survey in parts of Science in 2006 and economic status measured by the height of GDP. Similarities and differences have been identified in the structure and content of these documents, with special attention paid to valuable solutions, presented in curricula of studied countries. Those solutions promote the acquisition of skills in using the scientific method, which could be applied in the Polish National Core Curriculum.
Download the report [pdf, 0.8 MB]
.