Published on Thursday, 15 May 2014 11:10
This information brochure presents a summary of the third edition of the "Report on the Condition of Education". We call it "Outcomes Matter", because for several years, we have been transforming the education system into a model where learning outcomes constitute the fundamental criterion for assessing acquired qualifications in the areas of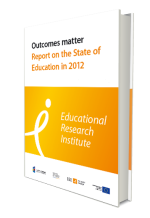 knowledge, skills and social competence.

These are not solely the outcomes of formal education, but also outcomes to be attained through non-formal or informal learning. These transformations are the main theme of the section entitled "Modernising the qualifi cations system in Poland to support the policy of lifelong learning". It was the concept of lifelong learning that spurred the introduction of learning outcomes as the main criterion of the education system's consistency and effectiveness.

Just like its previous editions, this report opens with an analysis of the changes occurring in education, as well as the legal changes in the formal general and vocational education system and higher education. It presents quantitative data on the educational infrastructure, the participation of children and youth in the education system, the relationship between educational attainment levels and transition to the labour market, and the financing of education on various levels. The brochure also contains an analysis and comments relating mainly to the specific underlying factors driving these trends to present a versatile picture of the condition of Polish education.

Naturally, this booklet does not include all the issues presented in the in-depth report. Therefore, I wholeheartedly encourage you to read this report, which is available at www.eduentuzjasci.pl.
Download: Outcomes matter - Report on the State of - Education in 2012 - Information booklet [pdf, 21 MB]
.