Published on Monday, 16 February 2015 20:46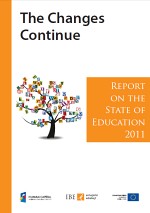 "The Changes Continue" is the second report from a series of reports on the state of education prepared by the Educational Research Institute. The report contains a new regular part in which updated information on trends in education is collated from different sources accompanied by a chapter devoted to changes in law which were introduced in the year prior to the publication of this report – 2011.
Compared to 2010 report more attention was paid to vocational and higher education - it was a year of significant legislative changes in both areas. The end of school year 2011/2012 was followed by significant changes in vocational schools culminating in the introduction of the new, long-anticipated core curriculum for vocational education.
Changes in higher education were introduced on 1 October 2011 through the higher education act amendment of March 2011. Thanks to National Qualification Frameworks in Higher Education, which have been in preparation since 2006, universities have gained more autonomy in the development of their curricula. They can plan the courses they offer independently, determining the name and curriculum as well as the expected learning outcomes. These changes occur at a crucial moment for universities as they have to cope with the effects of population decline and consider their offer and strategies for development.
The Download the report [pdf, 17MB]
.