Published on Tuesday, 06 December 2011 15:00
In the first of the series of reports on the state of education we review the research of the last decade, organise facts to show their significance and draw on findings to build a large consensus around education in Poland.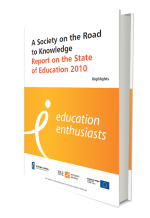 The title of the 2010 report "A society on the road to knowledge" reflects the view of the authors that after 20 years of transformation education is still halfway between a rigid system of the past and a flexible, dynamic system which not only adapts to the changing environment but is also the driving force behind social and economic development.

The information booklet summarises the report's main findings on educational attainment, participation, financing of education, education and demographics, quality of education, teachers, education and social cohesion, education and the labour market and teaching of mathematics.
Downoload: A Society on the Road to Knowledge Report on the State of Education 2010 - Highlights [pdf, 1MB]
.