Published on Thursday, 19 December 2013 12:00
Young Poles have similar competencies to their peers from 22 OECD countries. The results of the Programme for the International Assessment of Adult Competencies (PIAAC) show that over the past 17 years, the proficiency level of adult Poles has increased.

The infomation booklet presents major findings of the Programme for the International Assessment of Adult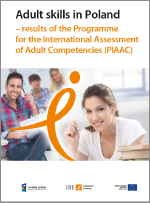 competencies (PIAAC). The study, which was conducted in 2011-2012 in 24 countries, measured the competencies of adults in literacy, numeracy and problem solving in technology-rich environments. The assessment in Poland was coordinated by the Educational Research Institute.

The competencies measured by PIAAC are a prerequisite to function in the modern world and to attain new knowledge and skills. PIAAC provides information on, among other issues, the relationship between competencies, education and the labour market situation. The data obtained during the study enables an assessment of the quality of human capital resources. Based on this, an evaluation of the economic potential, social cohesion and identification of groups at risk of social exclusion due to their low level of skills are possible.
Download the information brochure: Adult skills in Poland – results of the Programme for the International Assessment of Adult Competencies (PIAAC) [pdf, 13,5MB]
.