Published on Monday, 19 May 2014 09:05
The brochure reports the summary findings on the Time And Working Conditions of Teachers study carried out by IBE within "Education Enthusiasts" project.
The goal of the study was to: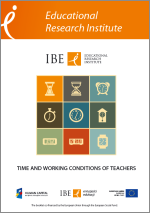 identify time allocated by teachers within a typical timetabled school week to performance of work activities and factors for their variability;
describe the complexity of teachers' working day and highlight different approaches to the teaching profession.

Given the specific nature of teaching, work time measurements can only be based on declarations of respondents (a questionnaire filled in by teachers themselves or with the interviewer's help, investigating an "average" week, the past week or the past day or two) and observations of their behaviour.

Download "Time And Working Conditions of Teachers - brochure" [pdf, 18MB]
.